More than 80% of the clean piping systems are affected by rouging. It can be seen easily or not, but rouging appears on the internal surfaces of ultra-clean pharmaceutical networks such as water for injection or pure steam networks. The stainless steel loses its corrosion resistant properties and iron oxide particles risk spreading into the network. Simply said, rouging means progresive stainless steel coloring, from reddish or orange to dark black.
The ASME-BPE defines rouging made of three distinct classes, depending of the state of iron oxides which attach themselves in the passive layer by substituting themselves for chromium oxides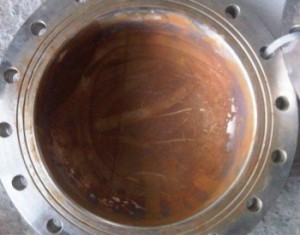 This kind of phenomena's cause is not entirely known, but it was classified in 2000. The international ASME-BPE organization recognized and adopted this definition in 2009. If you don't fight rouging, you're going to have soon more serious problems.
ROUGING 1st CLASS
Rouging is slimly attached to the surface and quite easy to get rid of. The red surface is mostly composed of iron oxides. The use of phosphoric acid mixed with other acids (nitric, citric or other organic acids) depending on requirement is easy and presents no risk of altering the surface state.
ROUGING 2nd CLASS
This class includes mostly iron oxides with a some amount of chromium, nickel and small amounts of carbon. This rouging class is harder to remove but it can be taken off without damage by acid solutions similar to those used for class I with higher concentrations and contact times. Only the use of oxalic acid can damage the surface state depending on the conditions and concentrations used.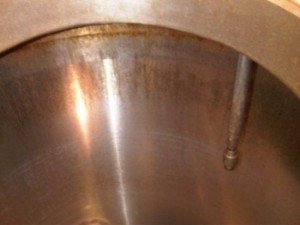 ROUGING 3rd CLASS
Eliminating the 3rd class rouging is harder because it has a different chemical composition. One can also damage the stainless steel surface during cleaning. That is why companies need special knowledge and special chemical compounds to achieve a quality cleaning work.
There are more methods for eliminating class III rouging, as ASME-BPE states. The organization also recommends a mixture of hydrofluoric acid or ammonium bifluoride. But this is not enough, since there are more factors involved. The composition, concentration, contact time and temperature are also determining factors in the success or failure of such cleaning operation.
Tehnochim Pharma developed an exclusive technique to achieve maximum efficiency in eliminating class III rouging, without damaging the surface. Their process also lasts a lot less than other products on the market.